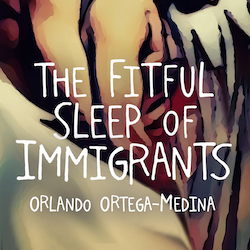 Orlando Ortega-Medina, in conversation with Daniel Olivas, discusses The Fitful Sleep of Immigrants
Map Unavailable
Date/Time
Date(s) - 27/04/2023
7:00 pm - 10:00 pm
Location
Book Soup
Categories
Award-winning author and immigration attorney Orlando Ortega-Medina discusses his new novel The Fitful Sleep of Immigrants with attorney Daniel Olivas, author of How to Date a Flying Mexican.
Orlando Ortega-Medina returns to 1990s San Francisco in The Fitful Sleep of Immigrants, a unique legal fiction with a dramatic, romantic twist inspired by events that forced the author and his partner to emigrate from the United States because of marriage inequality.
Attorney Marc Mendes, the estranged son of a prominent rabbi and a burned-out lawyer with addiction issues, plots his exit from the big city to a more peaceful life in idyllic Napa Valley. But before realizing his dream, the US government summons his Salvadoran life partner Isaac Perez to immigration court, threatening him with deportation.
As Marc battles to save Isaac, his world is further upended by a dark and alluring client who aims to tempt him away from his messy life. Torn between his commitment to Isaac and the pain-numbing escapism offered by his client, Marc is forced to choose between the lesser of two evils while confronting his twin demons of past addiction and guilt over the death of his first lover.